Summer is here and change is in the air. I've just completed a lengthy list of, for the most part, long overdue updates and changes to my BBS, Distortion. While realizing my task list was growing quite long, I jokingly dubbed it the "Distortion Improvement Project"… and here we are. Yeah, I realize I've yet to really post much about Distortion here, and I'll correct that soon enough, but the chronology of this blog comes down to wherever my mind is at the time, and you should know I struggle with ADHD. 😉 While this information is mostly only interesting to Distortion users (and I know there's a few of you reading this blog!) I'd also like to document the process of doing some of these changes, particularly the modding work, so if anything in this list jumps out as interesting to you, please leave a comment or drop me a line some other way and I may accommodate you in a future post.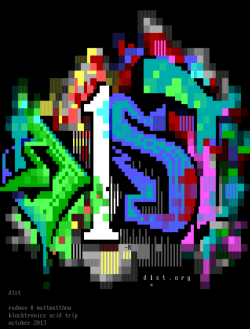 SSH is now available to all users on TCP port 22. SSH is gated back into telnet over Distortion's local network so that door games and other externals will still work properly. Viva la encryption!
Replaced our locally hosted fTelnet terminal to use the latest embedded, hosted version. You can access this via http://d1st.org if you're ever in a spot where you don't have a good ANSI capable client around.
Added Mystic's spellchecking functionality to our full screen editor. Auto-suggest is not turned on but you can always manually view suggested words by hitting CTRL-W over a misspelled word. Now you illiterate bastards have zero excuses. 😉
Added Mystic's draft message feature to the message menu. This is just too damn useful not to have on. Try it with "D" from the message menu next time you find yourself disconnected in the middle of a huge message.
Private messaging is now available on the inter-node menu (after previously only being an option after receiving a node message from someone else for years. Kind of a dumb oversight, I admit.)
While we're adding nifty Mystic features, I've finally caved and added some long, long requested convenience features as what I'm calling the "modern" theme vs the "classic" Distortion theme:

Scrolling ANSI/bulletin viewers
Lightbar file and message area selection
Lightbar/ANSI message reader
Lightbar message index viewer
Lightbar file lister
Lightbar archive viewer

Everyone will start out in "classic" which should work more or less the same as you're used to, but you can toggle your theme or enable and disable specific pieces of this via the "J" option under the user configuration menu.

While updating bulletin files to work with my new bulletin viewer, I've made numerous updates to them. nothing too exciting, but worth mentioning. I also removed some old bulletins from the extended bulletins menu (which has been redesigned) and added local game scores.
Speaking of games, I've made several changes to our doors:

Legend of the Red Dragon has been reset!
Legend of the Red Dragon also has the Barak's House IGM now. Woot!
Legend of the Red Dragon 2 has also been reset!
Planets: TEOS has also been reset, and boy did it need it. blah.
Planets: TEOS has had the landfill IGM added to it.
I've added The Brandy Bunch Adventure mini-game (via REFDoor.)
I've removed Darkness 1.0b and replaced it with direct links to the Darkness 2.0 games hosted by DoorParty and BBSLink.
I've removed the BBSLink submenu and replaced it with a link directly into BBSLink's own menu.
The Darkness testing link has been changed – it will now run Darkness directly out of my development directory, though it will only be made accessible when the release of a new version is impending (otherwise you'd need to deal with me resetting the data files all the damn time, which would get seriously annoying.)

Apologies if anyone was actively playing any of those games, but I'm going to be joining each of them now that they're reset, so if nothing else maybe we'll get some new blood in them.

SciNet and ArakNet message networks are now publicly available. We'd been members of SciNet long ago before Netsurge's return, but left it private after getting back on it. Likewise, I'd left ArakNet private while working out some kinks. Check them both out – both are great message networks!

Sorry if your new message scans get flooded with new messages in these echos – I'd recommend manually resetting your new scan date after you scan the old areas.

I've removed the old mandatory announcements message area and replaced it with a news bulletin reader mod. You can choose to mark the news as read and it won't show up for you again until the next time the news file is updated. Note that the display of the news reader will be affected by your bulletin viewer theme settings.
Numerous artwork changes:

I've added some new screens here and there, such as additional welcome and goodbye screens, a second user stats screen, etc. The two pictures on this article are two of the newly added screens. The ASCII by Firestorm is perhaps one of the oldest non-Filth pieces we have, while the logo is a much newer joint featuring Radman of ACiD fame. How many people have ANSIs drawn by Radman?! Too cool.
Also, even though few telnet/SSH terminals have major issues with end of line wrapping nowadays, I've teleported back to 2001 and removed the 80th column from a few screens that still had it. Rejoice, mTelnet users! 😛
To balance that out, I also extended numerous menus and other screens from 23 to 24 lines, most notably, the original long lost 24 line version of our matrix has been discovered and re-implemented!

Numerous minor changes to the new user creation process, including a welcome email replacing the old mandatory message, and a new screen with advice on appropriate ANSI-BBS compatible telnet/SSH terminals.
Finally, and perhaps least significantly, our original address from 20 years ago "distortion.demonic.net" is back online. Why? Because why not?
There's more coming, but that's it for this batch of changes. Enjoy!
—
1. rad2m-hotmess.ans by Radman and Mattmatthew from Blocktronics: Acid Trip (2013)
2. fm-dstr.asc by Firestorm from ACiD Acquisition #54 / Remorse #7 (1997)